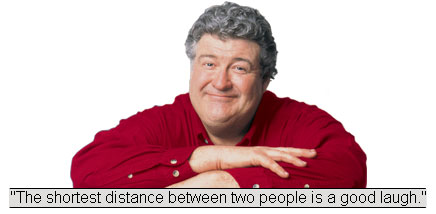 Michael Pritchard is a youth activist, humorist and Public Television host who is known by audiences across the United States for his ability to help young people gain real insight into themselves and the choices they make. For more than 25 years, Mr. Pritchard has traveled the country, thrilling his youthful audiences while spreading his message of good choices, personal responsibility and respect for others. Recently featured in Time magazine and on CNN, Pritchard had the unique distinction of winning the San Francisco International Comedy Competition while he was California Probation Officer of the Year. He keeps a demanding schedule visiting schools and universities across the country, while finding time to bring his inspiring message to parent, civic and professional groups, community organizations and corporations.

Biography
PBS Series
The Heartland Media Foundation
Awards
Philanthropy
Pritchardisms
Media Recognition
Information

Biography:
One part comedian, one part youth counselor and all heart, Michael Pritchard has built a career on helping the youth of America make morally sound choices over those that could lead to a sentence of crime or despair. At 6'", Pritchard is an imposing figure that can captivate an audience with his rare combination of humor and pathos.

A one-time probation officer, Pritchard has seen the toll that making bad choices can take on America's youth. Once the voice behind numerous "Star Wars" characters, Pritchard eschewed the riches of Hollywood to pursue a careers as a youth advocate. Drawing from the two experiences, Pritchard combines his comedic talent with his passion for helping kids.

Pritchard has a unique gift for getting kids to open up about themselves and share their pain. He has the power to absolutely mesmerize a school gymnasium packed with students by employing humor and compassion. When you've seen a mouse-like 8th grader stand up for herself to address her entire school for the first time, you've seen the power of Pritchard's gifts in action.

"Blending sheer goofiness, stories from his family, gritty, true examples of teen under pressure and cracker-barrel philosophy, Pritchard urges the young audience to make choices from strength and understanding." - David Holstrom for The Christian Science Monitor


top of page

PBS Series:

Michael Pritchard has starred in six critically acclaimed video education series focused on youth guidance and violence prevention that have aired on PBS nationwide and were seen by millions. LifeSteps is his newest series due to be released in August of 2004.

LifeSteps (2003) - a new Public Television that begins its national broadcasts on August 29, has already won 24 major national awards including the Parent's Choice Gold Award. LifeSteps is a revealing and dramatic look into the emotional life of teens as they grapple with the vexing problems and mounting challenges of the complex transition to adulthood. It deals with the very real and often painful issues facing teens today - bullying, substance abuse, depression and suicide - while promoting problem solving skills, resiliency and caring for others. LifeSteps is presented by KQED Public Television, San Francisco and distributed to public television stations nationwide by American Public Television. Funding for the national broadcast is provided by See's Candies.

Saving Our Schools from Hate and Violence (1999) - a two-part crisis-prevention series for creating safer more caring schools
Peace Talks (1997) - a 10-part series for teenagers and their families devoted to violence prevention
Big Changes - Big Choices (1994) - a 12-part middle school guidance series
You Can Choose! (1990-92) - 10-part elementary school children guidance series
The Power of Choice (1988) - 12-part high school guidance series

The Heartland Media Foundation is dedicated to furthering the work of Michael Pritchard and promoting character education, emotional intelligence, violence prevention and youth leadership in the nation's schools and communities. The foundation provides youth guidance programs in print and video as well as live presentations by Pritchard and assists in funding for schools and communities where resources are limited.


top of page

Awards:
For his work in promoting nonviolence with youth, Michael Pritchard was awarded an Honorary Doctorate in Humane Letters from Hartwick University, the 2001 Lewis Hines Award for Service to Children and Youth Certificate of Appreciation and the 2002 Marin County Foundations Beryl Buck Fund Award for achievement in promoting nonviolence. In 1980 Pritchard was California's Probation Officer of the Year and, at the same time, the winner of the San Francisco International Standup Comedy Competition. Other awards include President's Volunteer Action Award, Commendation - Office of the Attorney General, Paul Harris Fellowship - Rotary International, Toastmaster's International Speaker, Outstanding Performance - Federal Executive Board, Jospehine Duveneck Humanitarian Award and they Key to the City of San Francisco. Pritchard was also the Master of Ceremonies for the Pope's visit to San Francisco in 1987.


top of page

Philanthropy:
Pritchard also works indefatigably at helping to raise money by donating time and talent for an endless list of worthy causes including, Big Brothers Big Sisters - Boys and Girls Club - Ronald McDonald House - Salvation Army - Jewish Family Services - SF Giants Community Fund - American Heart Association - Women's Wellness Forum - Special Olympics - CASA Court Appointed Special Advocates - Bread & Roses - Recreation Center for the Handicapped - DARE - Texan's War on Drugs - Vietnam Vets of America - Guide Dogs for the Blind.


top of page

Pritchardisms:
"Hurt People hurt people."
"Pain shared is pain divided."
"You don't stop laughing when you grow old. You grow old when you stop laughing."
"Mentoring: not human doing, but human being."
"The shortest distance between two people is a good laugh."


top of page

Media Recognition:
As a result of his work, Michael Pritchard has been featured on CNN, NBC's "The Today Show," and "The Tonight Show," CBS "Sunday Morning" with Charles Kuralt, Time, People and many local media outlets.


top of page

Further Information:
To learn more about Michael Pritchard and his speaking tours please contact:
www.michaelpritchard.com
or call Craig Jones at
888-66-YOUTH
(888-669-6884)


4104 24th Street, #128
San Francisco, CA 94114
Phone: 415-642-5828
Fax: 415-642-5838
LS@hlmedia.com
Order Line: 1-800-99-YOUTH